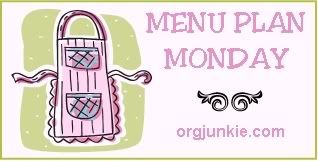 Friday:

Chicken Noodle Soup
(this one is pretty ambitious as it involves making your own noodles!)
Saturday:
Tailgating food! Go Cats!!!
Football cupcakes
(instead of making butterflies, like the original recipe, I'm going to make footballs!)
Jalapeño Popper Spread
served with french bread
Sunday:

Crockpot Smoked Brisket
, steamed broccoli, grilled potatoes
Here are a couple family favs:
Caramel Apple Pork Chops
(we've had this twice in the last week! yum!)
Chicken with Plum Chutney
and my absolute favorite desert -
Fudge Truffle Cheesecake
!
For a thousand more recipes and hundreds more menu plans, check out
I'm An Organizing Junkie
.