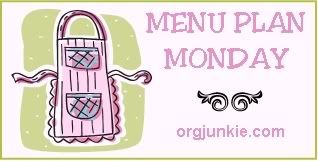 Friday:

Chicken Pot Pie
Saturday:
leftovers
Sunday:

Crockpot Smoked Brisket
, steamed broccoli, grilled potatoes
Does anyone have a great fish recipe to share? I've never cooked fish and normally don't eat it, but we want to give it a try! All that I ask is that it's easy, a relatively inexpensive kind of fish and no dijon mustard! Thanks for any suggestions! :)
For a thousand more recipes and hundreds more menu plans, check out
I'm An Organizing Junkie
.