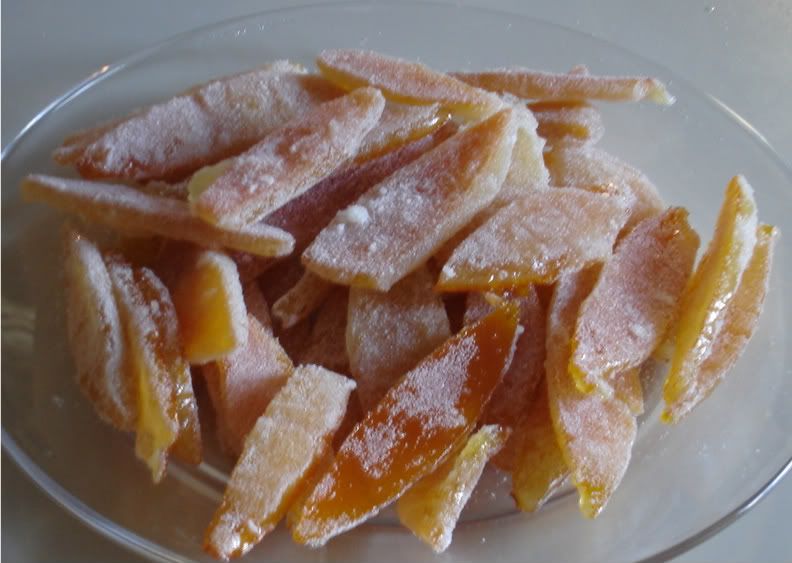 Today I got around to making my candied orange peels! They're okay - if I ever make them again, I'll change a few things from the recipe I used, though.
Here's how to make them (with my modifications included):
1. Peel 6-8 oranges and remove as much of the pith as possible. Cut into strips.
2. Boil peels in water for 5 minutes. Drain and repeat 2 more times. (this helps remove some of the bitter taste)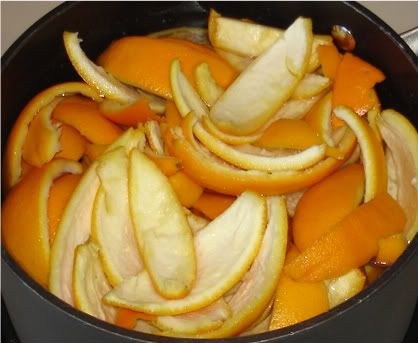 fresh peels
peels after 3rd boil
3. Combine 2 cups sugar, 1 cup water and 3 tablespoons light corn syrup in a pot. Bring to a boil, then add peels. Turn heat down to medium-low and let simmer for about 45 minutes or until peels are transparent.
4. Pour 1 cup sugar onto a cookie sheet and coat peels in sugar. (be careful, they will be HOT!)
5. Allow to cool on a cookie rack.
and here's what not to do: