In case you didn't catch the change in my posting schedule (over there, on the right) I have decided to do away with my weekly "Mmmm..." posts. It was a wonderful 2 week run, but it's time to (I don't want to say it, but here it comes...) kick it up a notch. How? With a weekly menu plan! That means you get a lot more recipes and I stay calm/have an answer when asked "what's for dinner?"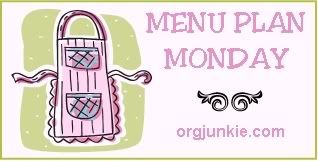 For a thousand more recipes and hundreds more menu plans, check out
I'm An Organizing Junkie
.