Make your own sun dried tomatoes...using your car! Complete directions at
PickYourOwn.org
Before: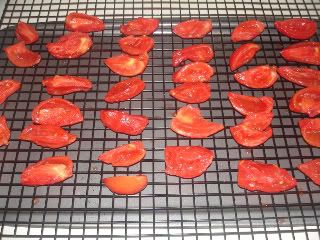 I didn't have any screen or wood to make my own drying rack, so I improvised...I used a cooling rack and put a cookie sheet with a lip under it to catch any tomato drips. Then I stuck it in the back window of my car.
End of Day 1
:
Wow they shrunk a lot! But they're still not done...
Day 2: Finished!

After sitting on the counter overnight and about an hour in the oven (it rained on day 2) they were all done! The ones on the top were dried only in the car and the ones on the bottom were finished in the oven.