June 8th
Target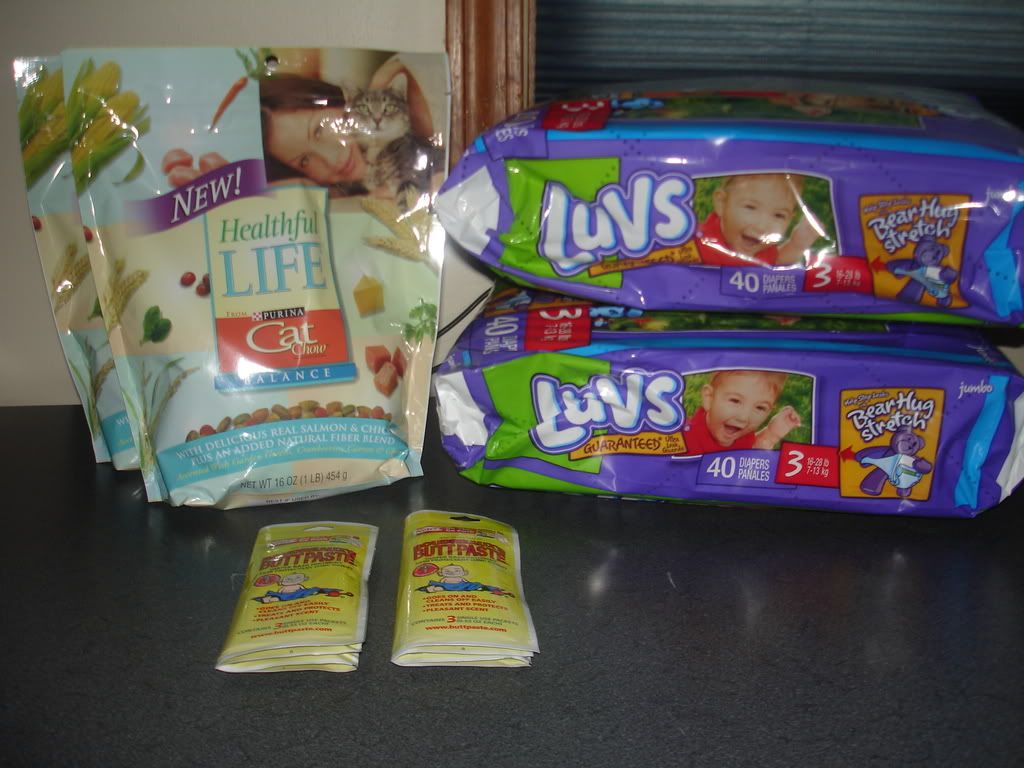 (prices are after coupons)
-$0.02
(2) Boudreauxs Butt Paste trial pack (used 2 $1/1 coupons)
-$0.13
(2) Purina Healthful Life cat food 16oz (used 2 free coupons from Sunday papers, cashier typed in full value of coupons!)
$9.48 (2) Luvs diapers size 3 (used 1 target $2.50/2 coupon + 1 $2/1 manuf coupon)
Total: $10.60, minus $9.28 paid with free gift cards =
$1.32 cash OOP
(out of pocket)
---------------------------
Walgreens

(prices are after coupons)
-4.01
(2) Off Mosquito PowerPad Lamp (1 bogo, 1 free, $2 store coupon)
-.01
J&J First Aid Kit ($1 coupon)
$5.50 (2) 12-pack Coke
$5.50 (2) 12-pack Sprite
Total: $9.17
($2.19 of which was tax) And I got a $3RR back to use on my next purchase!
My fav cashier was working, so we went to her. I got her a little present (some Bath & Body Works goodies) just because she's always SO nice and helpful, doesn't scowl at me with my stacks of coupons and lets me try out some crazy things with coupon stacking and I certainly didn't intend for her to do this, but she took off the full value of one of my products, which was about $2 more than should have been taken off!
-----
Wal-Mart
(prices are after coupons)
-0.04
(2) Honey Bunches of Oats w/ Choc Clusters (used 2 $2/1 coupons)
$1.94 (2) Toaster Strudels (used 2 .55/1 coupons)
$9.88 CFL light bulbs 6-pack


-0.06

J&J Buddies bar soap (used $1/1 coupon)


-0.03

Gold Bond lotion trial size (
used $1/1 coupon)

Total (with tax): $13.06


(Ah, the art of cashier profiling....amazing how such a simple thing almost always leads to a coupon-friendly cashier! No troubles this trip with Walmart accepting my internet coupons!)



----------------------------
June 11th


Dillons

(prices are after coupons)
$0.03 (2) Lipton Rice Sides (.75 ecoupon + $.60/2 coupon - doubled to $1/1)
$0.00 Right Guard Deodorant ($.75/1 coupon - doubled to $1/1)
$1.86 (8) Beechnut baby food ($1.50/8 coupon)
-$0.04
Tuna Helper ($.50/1 coupon - doubled to $1/1)
Total (without tax): $1.85

I bought more than just this, but these were the highlights! (Iowa needs to get on board with this doubling business, huh?!)
-----------------------------
June 13th (no pics from today)


Dillons

-$0.98
(2) Right Guard deodorant
(this ended up being a moneymaker only because Dillons messed up and the items rang up at full price, instead of the $1 sale price, so I got the first item free and the second item price adjusted, but when paired with my 2 $1/1 coupons, I come out ahead!...sort of, since I have to factor in gas to go back to the store to get it all fixed!)
-----
Walgreens


$11.00 (4) 12-packs of Coke
$4.99 Theragran-M multi vitamins
$5.99 Calcium Creamies
Used the $5/$20 coupon
Total: $18.22
Got back: $3RR to use on my next order and will get $12.08 back from Walgreens rebates!
After all is said and done, I paid $3.14 for all of this!