Materials you'll need:
old pocket calendar (I suggest checking on
freecycle
if you don't have one already)
(EDIT to add: or you can build your own: take a sheet of card stock (this is your base), cut another sheet to the height you want your pocket and slightly wider than the 'base', wrap the pocket sides around and glue those and the bottom to the 'base' sheet, leaving the top open....tada - you have a pocket!)
scrapbook paper
glue stick
scissors
spray adhesive
magnets (old ones will do)
Directions:
Step 1.
Select one page from your pocket calendar as well as coordinating scrapbook paper. Cut paper to fit neatly over the lines and numbers of the calendar. Using your glue stick, glue paper to the calendar. Be as creative as you want!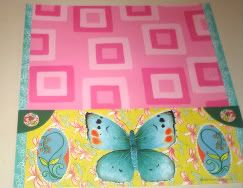 Step 2.
Now spray the 'wrong' side of the magnets with spray adhesive, allowing glue to become tacky, and adhere to the back of the calendar page. (I used an old magnet we had...yes, it's a K-State one...a football schedule from 1999)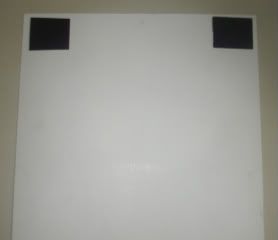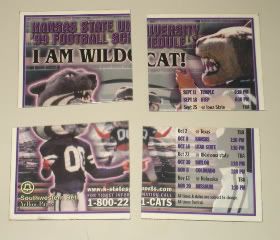 Step 3.
Allow time for glue to dry, then stick on your fridge and fill with to-do lists, school papers, etc!
Here are my other pockets...I saved two of my old pocket calendars for years (I think these are from 2002 and 2003!) since I'm a pack rat creatively intuitive. I decorated them all a couple years ago without an idea of what to use them for, but hung on to them anyway. And now they have a use! I'm so glad I kept them!