We shopped at Walgreens and Walmart today so I could a.) use the
$5/$20 Walgreens coupon
on the remainder of this months FAR items and b.) use all of my awesome "free" coupons that expire on the 31st!
I lumped all things into one pic, but broke them up according to where I made my purchases: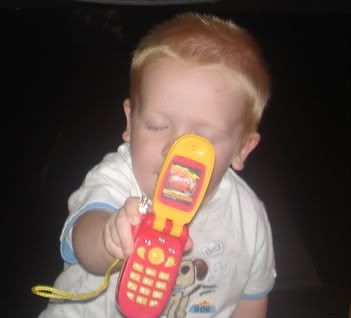 Breck is showing you his new phone he got for being excellent while shopping!
Walgreens
BioInfusion Leave In Conditioner
Jane makeup brush
Scrubbing Bubbles Action Scrubber kit
(12) Jello
(4) Wheat Thins
(2) Red Barron pizzas
Walmart
(6) 7 UP 2liters
(6) Kraft Singles
(6) Kraft salad dressing
(20) Philly Cream Cheese 3oz
Frigo string cheese
McCormick Grill Mates seasoning
Wheat Thins
10lbs potatoes
3lbs onions
Scrubbing Bubbles wipes
Glade Car air freshener
(3) Powerade
Dress socks
Cars phone toy
Subtotal before coupons and rebates= $122.73
My total after coupons and rebates= $31.96 (plus $8.64 in tax)....eh, not too bad.