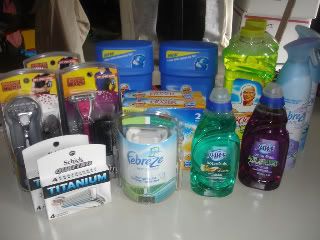 I just couldn't wait any longer to do more "shopping" (I should just start calling it "making money!") at Walgreens, so Breck and I went this morning. I think my days of taking him with me are at an end - at least I got a workout chasing him down and carrying his squirmy little body back to the cart....and register....and out the door! Anyway, here's what I got:
(2) Mr. Clean wipes
(2) Mr. Clean multi purpose liquid cleaner
(2) Mr. Clean magic erasers
(2) Febreze Air Effects
(1) Febreze Noticeables
(2) Dawn dish soap 11oz
(2) Schick Quattro Titanium 4ct cartridges
(2) Schick Quattro Titanium razor with MP3 arm band and shower holder
(1) Schick Quattro for Women razor with MP3 arm band and shower holder
All for (are you ready for this?! You may want to sit down...)
$5.64!!!!
$4.57 of that was tax!
Oh, and I got $20 in Register Rewards back! :D And again, most of this is stuff I can sell at a garage sale...if it all sells, I'll have made $44.50! (this is not including the fact that I made $14.36 by walking into Walgeens!)
------------------------------------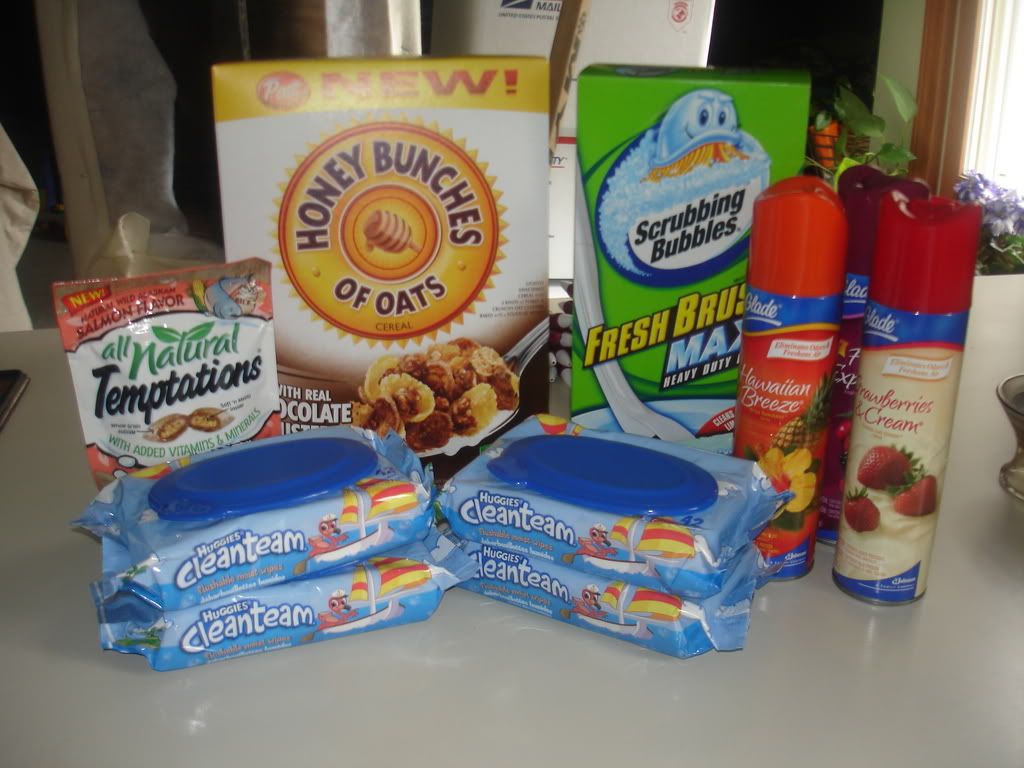 I had another pretty good shopping "spree" at Walmart:
(3) Glade Air Freshener Spray
(4) Huggies Cleanteam wipes
(1) Scrubbing Bubbles Max Fresh starter kit
(1) All Natural Temptations kitty treats
(1) Honey Bunches of Oats with Choc. Clusters
All for $5.55 ($1.32 of which was tax) and then I get $4.87 back from a mail-in rebate! So when all is said and done, I will have paid $0.68 for all of the above! (I did get more than just this, but these were the great deal items!) And I can sell some of these for a profit of about $4.00.
Oh the energy bargain hunting can take out of you....