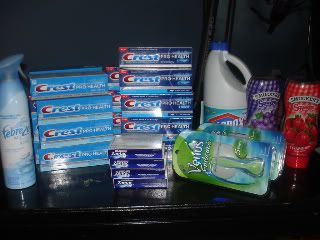 Walgreens is having a spectacular sale this week! And of course, I'm going to capitalize on it....this is my first haul for the week. I plan on going back at least twice this week to get more deals!
(17) Crest Pro Health toothpaste
(4) Zantac 150
(2) Venus Embrace razors
(3) Smuckers Jelly
(1) Bleach
(1) Febreze Air Effects
Not pictured: (1) Coke 20oz that Seth drank during church (the new one we found is cool and lets you eat breakfast during service!)
All for a grand total of: $15.75 which was paid for with my Walgreens gift card. And I still have $44 in Register Rewards to use! (for those who don't know - these are coupons that print with the receipt for money off your next order)
And if our next garage sale goes anything like the last one, and I sell all of these, I will have made $30.25 from the toothpaste, razors, Zantac, and Febreze!
(more pics and awesome deals to come...)