I'm pretty proud of this recipe - it's sorta, kinda, not really my own creation - I borrowed/adapted measurements from the
Classic Bran Muffin
recipe on allrecipes.com.
Blueberry-less Blueberry Muffins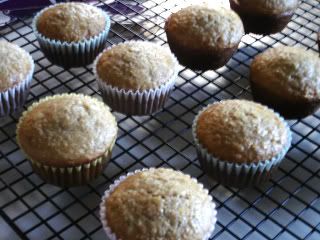 (Makes 12)

Ingredients:
2 cups Blueberry Mini Wheats
1 cup milk
1/3 cup vegetable oil (can sub 1/3 cup applesauce)
1 egg
2/3 cup brown sugar
1 cup sifted all-purpose flour
1 tsp baking soda
1 tsp baking powder
Directions:
Preheat oven to 375 degrees F. Grease muffin cups or line with paper muffin liners.

Mix together Blueberry Mini Wheats and milk; let stand for 5 to 10 minutes.

Add

oil, egg, sugar and vanilla

to milk/mini wheats mixture. Sift in flour, baking soda and baking powder. Stir until just blended. Spoon batter into prepared muffin tins.

Bake for 15 minutes, or until a toothpick inserted into the center of a muffin comes out clean.
These came out very moist and yummy with a subtle hint of blueberry!
(the blueberry mini wheats were a try me free promo from Kellogg's - but they dissolve
waaaay
too quickly in milk for me to eat before they're all soggy!)
See, no blueberries: