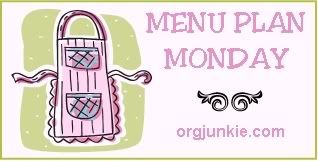 OK, last week was a mess as far as sticking to the menu goes - only 2 things were made, otherwise we had leftovers since Seth was gone a LOT for work. So, now our fridge is very bare, but that's ok....it'll be easier to clean! ...and I found some carrots and dip in there! Score!
Tuna Helper, steamed peas


Friday:

Salmon of some sort
Saturday:
Tailgating food
Sunday:

BBQ Beef
, mashed potatoes, steamed broccoli
For a thousand more recipes and hundreds more menu plans, check out
I'm An Organizing Junkie
.