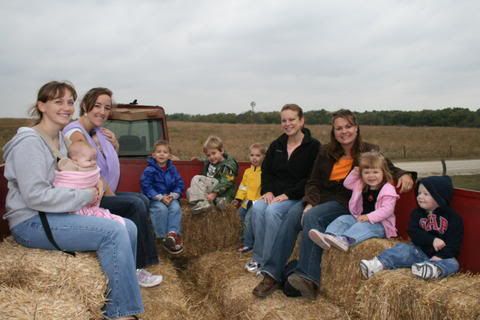 Last Monday morning Breck, Rowan and I went to Browndale Farms, which is a pumpkin patch mixed with a bunch of other activities, with our SAHM group from Manhattan!
Things we did include:
hay bale tunnel
big slide that ends in a kiddie pool of dried corn
petting 'zoo' - rabbits, goats, a horse, cows, llama, and a donkey - there were also kittens and a dog running around.
a hayrack ride (in case the picture is a little unclear! ;) )
a play hen house with fake eggs
big round hay bales for jumping across
there was also a corn maze, zip line and a wagon full of corn, but we didn't do those.
At the end of our outing, we each received a pie pumpkin...different from the carving pumpkins....you can eat these!
....see the little girl Breck's sitting next to? He likes her a LOT! He wanted to play with her the whole time we were there....they played on the slide together and, being a perfect gentleman, Breck let her go ahead of him up the ramp to the slide every time! It was pretty cute!
I forgot our camera and I can't figure out how to get the pics I took off my phone camera, so we're left with the group photo above. If I figure it out, I'll add them, but don't hold your breath! :)