I decided that instead of making strawberry jam with this year's tiny crop of strawberries, I'd make my own fruit roll ups! (I'm assuming Breck will eat these since they look like candy....he doesn't like jam anyway.)
3 cups strawberries
3 tablespoons honey
1 1/2 tablespoons lemon juice
puree it
spread it on wax paper (or as I did, on my plastic cereal bag)...I do
not
recommend plastic wrap. I did my second batch on it and it's incredibly tough to get the fruit peeled off the plastic.
put it in your hot sunny car and wait...it may take a full day or more for the fruit to be completely dry.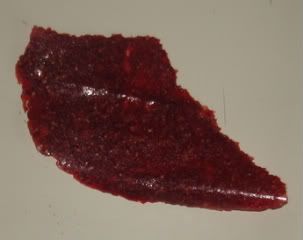 Mine was done after one day! And I have to say that it's pretty yummy! I put one tray in the front window and one in the back window (which had more sun) and the one in the back is slightly crisper than I'd prefer, while the one from the front isn't quite done yet.
by the way...Breck won't even try these...
Credits:
I found the recipe at
Make and Takes
.
I used the idea of drying food in your hot car from
PickYourOwn.org