1.
Magnetic Bulletin Board
(with button magnets!)
Here's Mine: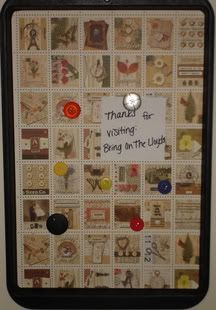 Step 1.
Sand off the rust from your old rusty baking sheet and then clean it with soap and water. Allow to dry thoroughly.
Step 2.
Spray the sheet in any color you want! (I used what I had for this project, so I chose black...it's actually a
freebie from Ace!
) I decided to line my sheet with scrapbook paper, but you could certainly stick with paint only...and if you do, you're done...no more steps!
Step 3.
Measure and cut your paper to fit inside the sheet.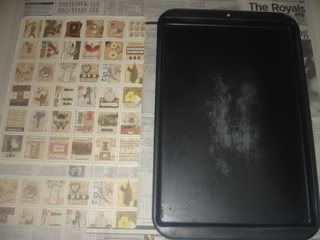 Step 4.
Glue paper to baking sheet. (I like to use a spray adhesive.)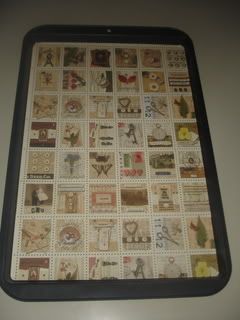 For the button magnets, simply choose a few buttons that match your new board and hot glue pieces of magnet to the backs! You can even reuse those old magnets from your junk drawer...just cut them up!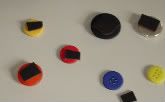 (
Note:
If you have a baking sheet with a hole in one of the 'handles' like I do here, you can hang it on the wall. If you have one without a hole, you can drill one or you can glue some heavy duty magnets to the back and use on your fridge.)

2. Craft Tray
- Use a baking sheet with an edge as a craft tray for a child or adult! It works great for keeping messes to a minimum and it allows you to transport your craft. And if you need to set your project aside, all your supplies are together when you come back to it!

3. Flower Pot "Saucer"
- If you have a grouping of plants, you can use a baking sheet with an edge underneath them rather than having individual saucers. Plus, if you move your plants outside during the day, it's a lot easier to carry them all out at once with the tray!

4. Travel Magnetic Game Board

This Thursday, head on over to
Green Baby Guide
for