So, today I went to Walgreens (since Saturday is usually when my store restocks their shelves) to get in on the last day of some great sales, but wouldn't you know.....they still didn't have the Venus razors back on the shelf, which really screwed up my plans! I guess I made out ok, considering...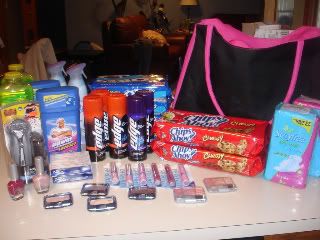 (6) Covergirl LipSlicks
(2) Covergirl Instant Cheekbones blush
(2) Covergirl Boundless Color nail polish
(4) Covergirl Eye Enhancers eye shadow
(2) Stayfree pads 24ct
Tote bag
(4) Oreo cookies
(2) Chips Ahoy cookies
Schick Titanium Razor with MP3 arm band
(2) Zantac 150 8ct
(5) Edge Shave Gel 7oz
(2) Mr. Clean Wipes
(2) Mr. Clean liquid
(2) Febreze Air Effects
Not shown: Hallmark Card
And my total was: $18.10....$9.92 of which was sales tax. And I was shorted $4.00 because the cashier took the wrong, lower price off for my free blush - ($3.99 instead of $5.99) But, I got back $75 in Register Rewards from buying all this stuff! (I still have $63 out of the $139 total RRs I made!)
--------------------------------------
And I also hit Walmart....
(2) Old El Paso taco seasoning packets
(2) Old El Paso taco shells
(2) Old El Paso enchilada sauce
Ketchup
Kashi Cereal
Live Active Cereal
Popcorn - 15 bags
Dole Juice
(2) Cinnamon Bears
Cottage Cheese
(2) Tostitos Chips
(3) Zantac 150 8ct
Clean & Clear trial
Frizz Ease trial
(3) Crest Pro-Health toothpaste
Gas drops (for Breck)
Kotex pantyliners
1 pear
All of this for $24.23! I saved $37.19 from using coupons! ;) AND for the first time ever, I was complimented by the person in line behind me as well as the cashier! It's pretty cool to see utter amazement on a stranger's face from me saving money!